Digital Magazine Editions for a Vertical Publishing Future
The story about how I learned what was wrong with the first generation of digital publishing software. And how we approached and solved the first generation challenges with our new platform for publishers. Original Publication: Guest Column for Talking New Media — My Story
Why I Gave Up on Digital Editions that didn't Evolve
In 2006 I was partner in a digital edition publishing solution startup where print ready PDF files were converted to Flash based digital editions.  There were instantly a dozen providers on the market and we all loved to peel the corners of the pages and hear the artificial page flipping sound.  After flipping 100 pages, we all got over that sound effect.  Some people didn't get tired of the paper slap turn sound and you can still hear it today. But, I think these are instances where the publisher hasn't actually had to sit through a full issue with that annoying page-flip audio.  Not to mention the entirely separate mobile theme that often reduced the magazine page to a thumbnail if viewed from a mobile device.
It only took me 10 years to determine a solution.  And for the first 5 years I spent more time identifying problems with print editorial layout online than working on potential solutions.  I'd seen the behind the scenes stats including just how many readers dropped off in the first few pages of the flip-style digital editions and knew that wasn't a long term fit for digital publications.  But there was no alternative because no one could imagine a print magazine online in any other format and still call it a digital edition and not a webzine.
Mobile-friendly focus or device capabilities didn't open the serious discussion about smartphone and tablet usability until 2011. And by 2014, adults were spending more time on mobile than desktop/laptop devices for digital content.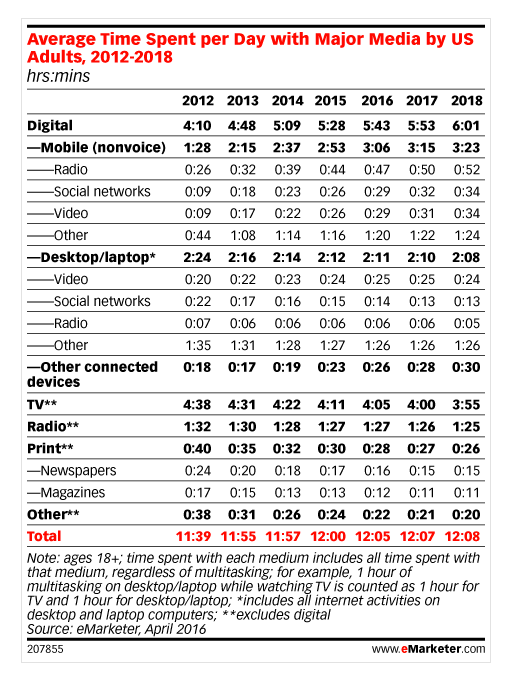 Source: Link
My creative team and I put together many prototypes of web based magazines.  But they never had what I felt it would take to motivate a publisher to use alternatively to a native mobile app and our rotator style progression that wasn't much of an improvement over clicking for the next page.  They also weren't created for vertical content orientation.  
And then Vertical Became Standard
We returned to a focus on simplicity with the emphasis on the best possible way to keep content, control, and creative design directly in front of the user.  And then it hit us, just design the entire issue vertically and leave out all the toolbar bloat that frames the tools required to make horizontal progression panel editions work.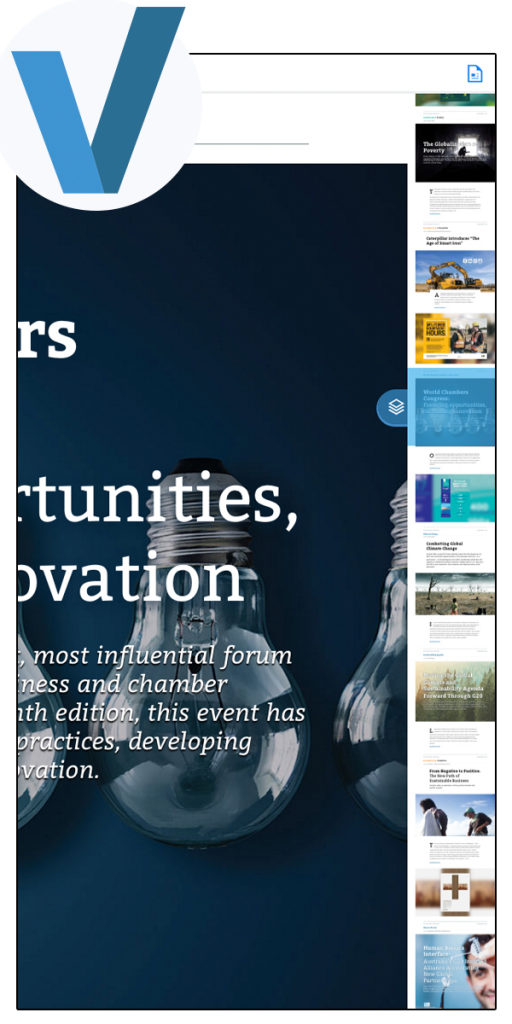 We call it VERTIQUL. Digital editions that are responsive digital magazine versions produced as a continuous flow of content vertically down a page.  As a digital edition they are designed from print layout publisher assets, yet the magazine can be created from core publisher content as digital first magazines.  Pagination marker points are designed into the page so table of contents or any other jump positions to relative print layout pages are easily accessible.  But the focus is not on jumping over content, it's a linear experience where the reader scrolls the issue from top to bottom.  And the digital category openers allow that user to lose themselves in a longform format for feature articles if the publisher has got the content to fill the screen.
There have been examples of HTML5 and masonry styled content layouts.  Most have been utilized to designate creative or art focused content where the presentation was intended for digital only.  While these efforts satisfied the vertical scroll user experience, the content was often tiled or exclusive teaser to article without typical publication permanence elements and content transitions.  Aggregated presentations like Flipboard or programmatic newsfeeds had a flow, but miss the importance of the publication's full issue graphic design communication.  A filtered content web "view" is not a publisher organized issue deliverable. I love Feedly for parsing my interest and delivering stories, but a fancy feed reader is still not a magazine. And a category or list of articles on a website where web articles are often contained in the website theme don't accommodate the issue deliverable.  And a designed issue flow contains one more CRITICAL aspect of the publishing business model;  the fixed placement advertising! Which still matters in digital and isn't replaced with banners ads from delivery networks.  The user experience expectation is mortally tainted when the ad creative doesn't align with the content of the publication or issue.
My solution is performed as an agency design production service.  It's a logical business model for our initial target niche.  Full service production where we can even begin work before the issue files are finalized for the printer.  We're also comfortable with setting up the platform and training the publishing team that would prefer to handle the workflow.  It doesn't scale like a complete self service platform.  Those options will come from other vendors in the digital publishing marketspace and we expect they will add the responsive HTML5 editions as a standard channel output.  Perhaps the need for simplicity will actually drive publishers already engaged in a complete digital publishing workflow suite to move the actual digital editions back to responsive web.   I've always felt apps for magazines are great for utility and notifications, but not great custodians of issue archives.
We also know that many publishers will build their own vertical edition platform.  We look forward to this, as it will spur additional publisher community interest in the overall vertical edition presentation format. We hope to be a great fit for those publishers that want a partner who can do the work and integrate revenue strategy into that execution.
What Keeps the Digital Reading Experience Focused on the User
Here's the top factors our team utilized for solution UX benchmarks.  We eliminated quite a few features that added complexity or clutter such as dynamic social share tools and slider enhancement for swiping into articles.
1) Scroll – Modern audiences expect digital content in a vertical scroll format.  Even swipe and app based interfaces use vertical scroll for engagement with content.
2) Designed – The mobile content experience must be deliberately designed with the same creative distinction in digital as the print magazine layout.  Not aggregated or compiled from programmatic cross-platform production software template workflows as tiles or masonry flows.
3) Speed Control – Users want to control the speed as they browse content – flipping pages works for print magazines, but is not fast enough when users must find page edge/corners, click/spread to zoom read, click/spread to exit out and wait for page loads
4) Progression – The magazine reader requires progression awareness to understand their position and completion progress.  Absent progression awareness with progress bar or thumbnails on flip editions, readers exit and seek table of contents or index to size up how many total pages exist and their position.   User don't like the perception of never ending digital page turns.
5) Advertising – The advertising position and ad continuity in line with editorial inside the issue structure is important to the publishing business model. Digital publishing tools that isolate only the stories in responsive HTML5 degrade the entire "magazine as an issue" concept.  Ads not designed into the issue degrade the experience as purposely designed and can easily get blocked by software.
6) Branded – The magazine editions technology solution must be branded to the specific magazine publication and should never be grouped into a vendor newsstand showing unrelated or competitive B2B / B2C digital editions; furthermore the technology platform and/or fulfillment titles and web URLs should be magazine centric to avoid confusing readers with branding for the digital edition fulfillment platform
7) Hosted – The cloud based solution should be maintained and hosted to insure the platform software is secure and provides quick page load.  It's easy to make exception arrangements for publishing groups that want to take this part over themselves.
8) Analytics – The digital magazine should allow the publisher customization for any analytic tracking or conversion scripts necessary to measure results. Publishes want to know exactly where readers engaged specific pages/sections of their content and everything else about that visitor that helps to understand the audience demographic.
9) Navigation – Digital edition navigation should be limited to the basic issue table of contents and return to the main digital editions landing page with other content share and engagement links designed into body content to maintain user attention on the intended advertising and editorial design content mix
10) Revenue – In addition to digital sponsor positions for the branded issue index, the print advertising units can be replicas with website links or enhanced with custom HTML and Video embeds from the vertical editions – designers can even convert certain print ad creatives without additional media assets
Why the Vertical Publications Matter
So why is the vertical edition so important?  Because it's the logical and most simply accessible method of delivering a design sequence of content to a modern user.  If we don't make it simple to get the magazine as a deliverable issue for paid or controlled publishing models, our audiences will continue to migrate toward fragmented feeds and flows where we don't get to package all the issue content together as "The Issue."  
I knew it… you already have a great idea about how to make this or something similar work for your publishing business!
About The Author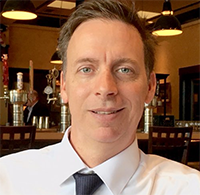 Advontemedia provides magazine web design, magazine publishing CMS development, and digital revenue strategies for publishers.
The publishing services agency launched VERTIQUL in 2016.  The publishing solutions website provides live digital edition examples and prototypes demonstrating digital magazine design capabilities.  Don't miss the video publisher tour and comparison to traditional digital flip replicas.
Modern Magazine Definition for Digital Era
"A periodic compilation of sequenced relative materials and edited content published in a designed format." – David Blankenship
Twitter: https://twitter.com/davorado
LinkedIn: https://www.linkedin.com/in/admecoach